The 2013 winner of the Scottish Jazz Award for best International, Tim Kliphuis maintains a busy touring schedule as the top performer and teacher of gypsy jazz violin. His electrifying performances and remarkable audience rapport have made him a firm favourite on the festival scene: he appears regularly at the American Djangofests, Samois-sur-Seine and Liberchies festivals and collaborates with top gypsy guitarists Stochelo Rosenberg, Paulus Schäfer, Dorado Schmitt and many others.

"Prodigiously talented, fearsomely fast and fun"
- Time Out

"Free-flowing, elegant and improvisational in feeling"
- Djangostation.com

"One of the world's finest fiddlers"
- County Times

"Playfully inventive and technically brilliant"
- Scotsman

"The foremost ambassador for the music of Grappelli" - The Strad Magazine

Tim's new programme "Celebrating Stéphane Grappelli" takes the French jazz master's life as a starting point and includes music from the Django Reinhardt days, his years as a world-famous jazz star and five beautiful Grappelli compositions, never played before on the international stage!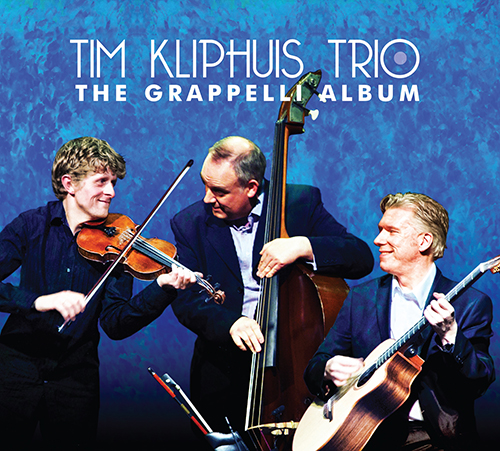 Recent highlights include the Amsterdam Concertgebouw, collaborations with the Netherlands Chamber Orchestra, Tim's succesful debut at St. Peterburg's Cappella hall and Glasgow's Celtic Connections Festival.

Tim Kliphuis is one of the world's top improvising violinists with a unique and popular style, taking gypsy jazz into the 21st Century by blending it with classical and folk music. He has shared the stage with Richard Galliano, Frankie Gavin, Les Paul and many gypsy jazz groups including The Rosenberg Trio. He has a busy international schedule and is an in-demand educator at competitions, masterclasses and conservatoires.
Tim is the author of best-selling book "Gypsy Jazz Violin", the popular "Grappelli Licks" book and "Hot Jazz Violin" DVDs.

Order Tim's books, DVDs and videos.

In 2010, he started the sell-out annual gypsy jazz Summer school, "Grappelli Camp" in Holland.

Official website: www.timkliphuis.com
Selected tracks by "Tim Kliphuis Trio" - click to listen.


Promotional photos, right-click to download.